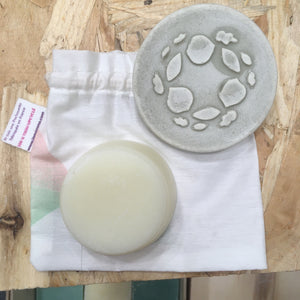 kyklozerowaste
Zerowaste Hair Set / Σετ Μαλλιών - solid shampoo + solid conditionner
Regular price
€15,00
€0,00
Unit price
per
Tax included.
Shipping
calculated at checkout.
A perfect Set to offer or to take care of your hair, consisting of one solid shampoo (Lamazuna) and one solid conditionner (you can choose Lamazuna or the Soap up Project)
Precautions and storage:
To ensure that your solid bars last for as long as possible, look after them in the same way as our other solid products. Keep it dry between uses by placing it on our Incredible Organiser, in a small storage jar, or in one of our mini pouches! 
Ένα τέλειο σετ για να προσφέρετε ή να περιποιηθείτε τα μαλλιά σας, που αποτελείται από ένα συμπαγές σαμπουάν (Lamazuna) και ένα συμπαγές conditioner (μπορείτε να επιλέξετε το Lamazuna ή το Soap up Project)

Προφυλάξεις και αποθήκευση:

Για να διασφαλίσετε ότι οι συμπαγείς ράβδοι σας διαρκούν όσο το δυνατόν περισσότερο, φροντίστε τις με τον ίδιο τρόπο όπως τα άλλα στερεά προϊόντα μας. Διατηρήστε το στεγνό μεταξύ των χρήσεων τοποθετώντας το στο Incredible Organiser μας, σε ένα μικρό βαζάκι αποθήκευσης ή σε μια από τις μίνι θήκες μας! 
---