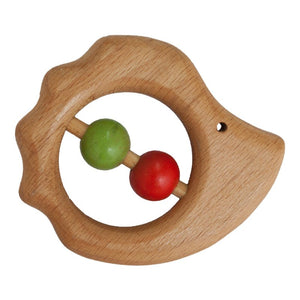 Beaver's wooden toys
Wooden Teether Rattle Hedgehog - Ξύλινή Μασητική Κουδουνίστρα / Σκαντζοχοιρος
Regular price
€12,00
€0,00
Unit price
per
Tax included.
Shipping
calculated at checkout.
Beaver's Toys are wooden toys handmade in Athens, Greece with responsible sources and ecological varnish. 100% children safe!
The Hedgehog Rattle is a chewy wooden sound toy that has an animal figure. At the same time, it is a first-class rattle that distracts the baby with the natural sound of wood. In all our baby toys including Hedgehog, all its corners are rounded while their size is ideal for a baby's hands so that they can hold it and explore it. It is made entirely of natural beech wood and its dimensions are L: 10 cm x W: 2 cm x H: 8.5 cm
Τα Beaver's Toys είναι ξύλινα παιχνίδια χειροποίητα στην Αθήνα, με υπεύθυνες πηγές και οικολογικό βερνίκι. 100% ασφαλή για τα παιδιά!
Η κουδουνίστρα Σκαντζοχοιρος είναι ένα μασητικό ξύλινο ηχητικό παιχνίδι που έχει τη φιγούρα ζώου. Παράλληλα αποτελεί μια πρώτης τάξεως κουδουνίστρα που αποσπά την προσοχή του μωρού με τον φυσικό ήχο του ξύλου. Σε όλα τα βρεφικά παιχνίδια μας έτσι και στο Σκαντζοχοιρος, όλες οι γωνίες της είναι στρογγυλεμένες ενώ το μέγεθος τους είναι ιδανικό για τα χέρια ενός μωρού έτσι ώστε να μπορεί να την κρατήσει και να την εξερευνήσει. Είναι κατασκευασμένη εξ ολοκλήρου από φυσικό ξύλο οξιάς και οι διαστάσεις της είναι Μ: 10 cm x Π: 2 cm x Υ: 8.5 cm
---