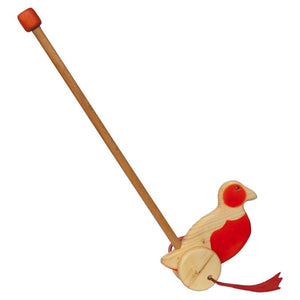 Beaver's wooden toys
Wooden Seabird Walker - Ξύλινή Περπατουρα Θαλασσοπούλι
Regular price
€25,00
€0,00
Unit price
per
Tax included.
Shipping
calculated at checkout.
Beaver's Toys are wooden toys handmade in Athens, Greece with responsible sources and ecological varnish. 100% children safe!
The walker is a member of a series of traditional toys that feature a long stick that provides sturdy support and stability for our little friends' first steps. The Seabird is an adorable colorful bird that moves its legs when dragged or pushed across the floor. The leg movement produced when the Seabirds roll teaches the child cause and effect, also encouraging walking. It is certain that he will love to hear the flip flops on the sea bird's leather feet as the toys roll and explore their space. Its dimensions it is L: 23 cm x W: 8 cm x H: 61 cm.
Τα Beaver's Toys είναι ξύλινα παιχνίδια χειροποίητα στην Αθήνα, με υπεύθυνες πηγές και οικολογικό βερνίκι. 100% ασφαλή για τα παιδιά!
Η Περπατουρα Θαλασσοπούλι είναι μέλος μιας σειράς από παραδοσιακά παιχνίδια που διαθέτουν ένα μακρύ ραβδί που παρέχει στιβαρή υποστήριξη και σταθερότητα στα πρώτα βήματα των μικρών μας φίλων. Η Περπατουρα Θαλασσοπούλι είναι ένα αξιολάτρευτο χρωματιστό πτηνό που κινεί τα πόδια του όταν σύρονται ή ωθούνται στο πάτωμα. Η κίνηση των ποδιών που παράγεται όταν τα Θαλασσοπούλια κυλούν διδάσκει στο παιδί την αιτία και το αποτέλεσμα, επίσης ενθαρρύνει το περπάτημα. Είναι σίγουρο πως θα λατρέψει να ακούει το φλιπ φλοπ στα δερμάτινα πόδια από τη Περπατουρα Θαλασσοπούλι, καθώς τα κυλούν τα παιχνίδια και εξερευνούν τον χώρο τους. Οι διαστάσεις του
είναι Μ: 23 cm x Π: 8 cm x Υ: 61 cm.
---