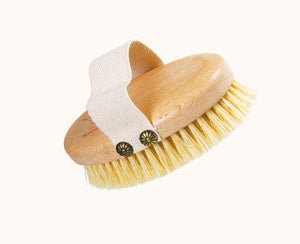 Anaé
Vegan Tampico Massage brush - Βούρτσα μασάζ Vegan Tampico
Regular price
€14,50
€0,00
Unit price
per
Tax included.
Shipping
calculated at checkout.
Natural care technique for a gentle dry massage!
This product brushes the body without water or cosmetics to remove dead cells on the surface of the skin. Use before or after shower or bath.

It cleans and massages the whole body without attacking the skin. Composed of a brush fitted with a strap making it easier to hold in the hand.

Manufacturing in Europe.

Use
Easy to clean, simply wash the brush in warm water with neutral soap and let the bristles dry down.

Ecological interests
Made from FSC® certified beech wood from responsibly managed forests. Vegan, my head is made of tampico vegetable fibers.
Φυσική τεχνική περιποίησης για απαλό ξηρό μασάζ!
Αυτό το προϊόν βουρτσίζει το σώμα χωρίς νερό ή καλλυντικά για να αφαιρέσει τα νεκρά κύτταρα στην επιφάνεια του δέρματος. Χρησιμοποιήστε το πριν ή μετά το ντους ή το μπάνιο.

Καθαρίζει και κάνει μασάζ σε όλο το σώμα χωρίς να επιτίθεται στο δέρμα. Αποτελείται από μια βούρτσα με ιμάντα που διευκολύνει το κράτημα στο χέρι.

Κατασκευή στην Ευρώπη.

Χρήση
Εύκολο στο καθάρισμα, απλά πλύνετε τη βούρτσα με ζεστό νερό με ουδέτερο σαπούνι και αφήστε τις τρίχες να στεγνώσουν.

Οικολογικά ενδιαφέροντα
Κατασκευασμένο από ξύλο οξιάς με πιστοποίηση FSC® από υπεύθυνα διαχειριζόμενα δάση. Vegan, το κεφάλι μου είναι φτιαγμένο από φυτικές ίνες ταμπίκο.
---