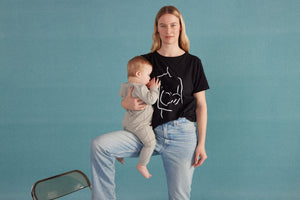 Tajinebanane
MOTHERHOOD - Breastfeeding/Nursing t-shirt / Μπλουζά θηλασμού
Regular price
€49,00
€0,00
Unit price
per
Tax included.
Shipping
calculated at checkout.
When Tajinebanane met Rowan Sterenberg, a young mother and Dutch artist, it was love at first sight!

The pure lines, as beautiful as they are striking, seen throughout her paintings, now found on our Motherhood T-shirts.
The curves draw a mother breastfeeding her baby. Against you, with you, a piece of art, a piece of your life...
Never forget Mama, lift up your chin, pull back your shoulders... be proud to be a woman, proud to be a mother, everyday!

Our Advice:
Cut fit, take your usual size.

Pregnancy-friendly nursing shirt
Breastfeeding tshirt with two large openings on the sides that can be closed with zips.
Tajinebanane interior material overlay on the inside of the openings to ensure maximum discretion.

95% organic cotton 5% elastane
Certification OEKO-TEX®

Designed in Bordeaux
Made in Portugal

Machine washable at 30°C, inside out
Όταν η Tajinebanane συνάντησε τη Rowan Sterenberg, μια νεαρή μητέρα και Ολλανδή καλλιτέχνη, ήταν έρωτας με την πρώτη ματιά!
Οι καθαρές γραμμές, τόσο όμορφες όσο και εντυπωσιακές, φαίνονται στους πίνακές της, που βρίσκονται τώρα στα μπλουζάκια της Μητρότητας μας.
Οι καμπύλες σχεδιάζουν μια μητέρα που θηλάζει το μωρό της. Απέναντί ​​σου, μαζί σου, ένα κομμάτι τέχνης, ένα κομμάτι της ζωής σου... Μην ξεχνάς ποτέ τη μαμά, σήκωσε το πιγούνι σου, τραβήξε τους ώμους σου προς τα πίσω... να είσαι περήφανη που είσαι γυναίκα, περήφανη που είσαι μητέρα, καθημερινά!
Η συμβουλή μας: Κόψτε την εφαρμογή, πάρτε το συνηθισμένο σας μέγεθος.
Πουκάμισο θηλασμού φιλικό προς την εγκυμοσύνη
Μπλουζάκι θηλασμού με δύο μεγάλα ανοίγματα στα πλαϊνά που κλείνουν με φερμουάρ.
Επικάλυψη εσωτερικού υλικού Tajinebanane στο εσωτερικό των ανοιγμάτων για να διασφαλιστεί η μέγιστη διακριτικότητα.
95% οργανικό βαμβάκι 5% ελαστάνη Πιστοποίηση OEKO-TEX®
Σχεδιασμένο στο Μπορντό Κατασκευάζεται στην Πορτογαλία
Πλένεται στο πλυντήριο στους 30°C, από μέσα προς τα έξω
---