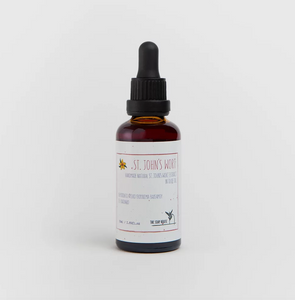 The Soap House
St. John's Wort Oil - Βαλσαμέλαιο 50ml
Regular price
€5,50
€0,00
Unit price
per
Tax included.
Shipping
calculated at checkout.
Balsam oil results from the extraction of the Balsam plant in Extra virgin olive oil from Mani. The plant is harvested at a specific time and time, during which according to the literature its active substance Hypericin is in the highest concentration in its parts. It is then extracted slowly, for 40 days in glass bottles with extra virgin olive oil until it is ready.
Traditionally, St. John's Wort oil is used for most skin problems as it has healing and anti-inflammatory properties. It helps heal wounds and abrasions, relieves irritation, itching, insect bites, bruises, light burns, skin diseases, inflammation and haemorrhoids.
Balsam oil is also used to heal wounds, burns, sunburns, abrasions, bruises, as well as to relieve muscle pain. It is recommended to be used during the evening hours or under clothes and not to be exposed to direct sun exposure in the area where it is applied as it can cause photosensitivity.
Ingredients: Balsam, Extra Virgin Olive Oil, Vitamin E & Rosemary Extract
Το βαλσαμέλαιο προκύπτει από την εκχύλιση του φυτού Βάλσαμο σε Έξτρα παρθένο ελαιόλαδο απο Μάνη. Το φυτό συλλέγεται σε συγκεκριμένη ημερομηνία και ώρα, κατά την οποία σύμφωνα με τη βιβλιογραφία η δραστική του ουσία Υπερικίνη βρίσκετε στην υψηλότερη συγκέντρωση στα μέρη του. Στη συνέχεια εκχυλίζεται αργά, για 40 ημέρες σε γυάλινα μπουκάλια με έξτρα περθένο ελαιόλαδο έως ότου είναι έτοιμο.
Παραδοσιακά, το έλαιο St. John's Wort χρησιμοποιείται για τα περισσότερα δερματικά προβλήματα καθώς έχει θεραπευτικές και αντιφλεγμονώδεις ιδιότητες. Βοηθά στην επούλωση πληγών και εκδορών, ανακουφίζει από ερεθισμούς, κνησμό, τσιμπήματα εντόμων, μώλωπες, ελαφρά εγκαύματα, δερματικές παθήσεις, φλεγμονές και αιμορροΐδες.
το βαλσαμέλαιο χρησιμοποιείται και για επούλωση πληγών, καψιμάτων, εγκαυμάτων, ηλιακά εγκαύματα, εκδορές, μώλωπες, καθώς και για ανακούφιση μυϊκών πόνων.
Συστήνεται να χρησιμοποιείται κατά τις βραδυνές ώρες ή κάτω από τα ρούχα και να μην ακολουθεί άμεση έκθεση στον ήλιο της περιοχής όπου εφαρμόζεται καθώς μπορεί να προκαλέσει φωτοευαισθησία.
Συστατικά: Βάλσαμο, Έξτρα παρθένο ελαιόλαδο, Βιταμίνη Ε & Εκχύλισμα Δενδρολίβανου
---