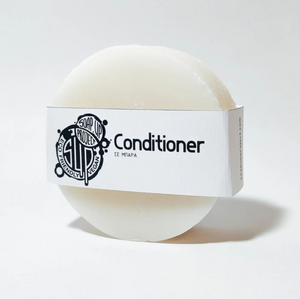 Soap up project
Solid Conditioner - with grapefruit essential oil / Μαλακτικό μαλλιων σε μπάρα - with grapefruit essential oil
Regular price
€8,50
€0,00
Unit price
per
Tax included.
Shipping
calculated at checkout.
Sold in Bulk! We can ship it to you in reused paper, cotton pouch, upcycled pouch, to be selected separately on the site and added to your cart. If you do not select any, we will send it in a reused packaging!
Use directly on the hair by rubbing the bar directly into clean and wet hair. Advantages of the conditioner in bar form are the duration of the product, as not a large amount is required for each use and the ease of transport due to its size, which makes it ideal for travel.
Tip. In case you want to take a small amount with you for a trip, you can cut, with a clean knife, part of the dry bar and put it in your vanity!!
For the proper preservation of the soap and the maximum possible duration, it is recommended to place it in a drainage dish so that there is no stagnant water.
Vegan composition, low waste process and packaging, eco friendly.
Ingredients: shea butter, cocoa butter, avocado oil, emulsifier BTMS (from rapeseed oil), Cetyl Alcohol, oat "silk", grapefruit essential oil Conditioner in solid form for soft and shiny hair.
The formula contains essential oils, avoid using it during pregnancy and for children under 3 years old.

Πωλείται χύμα! Μπορούμε να σας το στείλουμε σε επαναχρησιμοποιημένο χαρτί, βαμβακερή θήκη, ανακυκλωμένη θήκη να επιλέξετε ξεχωριστά στο site και να το προσθέσετε στο καλάθι σας. Εάν δεν επιλέξετε κάποιο, θα το στείλουμε σε επαναχρησιμοποιημένη συσκευασία!
Μαλακτικό σε στερεή μορφή για απαλά και γεμάτα λάμψη μαλλιά. Η χρήση γίνεται απευθείας στην τρίχα τρίβοντας την μπάρα απευθείας σε καθαρά και βρεγμένα μαλλιά. Πλεονεκτήματα του conditioner σε μορφή μπάρας είναι η διάρκεια του προϊόντος, καθώς δεν απαιτείται μεγάλη ποσότητα σε κάθε χρήση και η ευκολία στην μεταφορά λόγω μεγέθους, γεγονός που το καθιστά ιδανικό για ταξίδια.
Tip. Σε περίπτωση που θέλετε να πάρετε μια μικρή ποσότητα μαζί σας για κάποιο ταξίδι, μπορείτε να κόψετε, με καθαρό μαχαίρι, μέρος της στεγνής μπάρας και να το βάλετε στο νεσεσέρ σας!!
Για την σωστή διατήρηση του σαπουνιού και την μέγιστη δυνατή διάρκεια, προτείνεται η τοποθέτησή του σε πιατάκι αποστράγγισης ώστε να μην υπάρχουν λιμνάζοντα νερά. 
Vegan σύνθεση, low waste διαδικασία και συσκευασία, eco friendly.
Συστατικά: βούτυρο καριτέ, βούτυρο κακάο, λάδι αβοκάντο,  γαλακτοματοποιητής BTMS(από κραμβέλαιο), Cetyl Alcohol, "μετάξι" βρώμης, αιθέριο έλαιο γκρειπφρουτ
Η φόρμουλα περιέχει αιθέρια έλαια, αποφύγετε τη χρήση του κατά τη διάρκεια της εγκυμοσύνης και για παιδιά κάτω των 3 ετών.
---