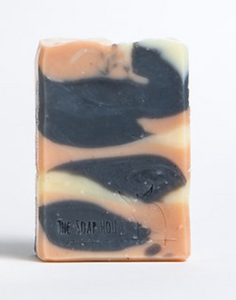 The Soap House
Soap with Activated Charcoal & Tea Tree - Φυσικό σαπούνι με Ενεργό Άνθρακα & Τεϊόδεντρο - 100 gr
Regular price
€6,50
€0,00
Unit price
per
Tax included.
Shipping
calculated at checkout.
Natural olive oil soap with activated charcoal, red clay, essential oils of tea tree and petitgrain.
This is a 100% natural, luxurious, handmade olive oil soap, enhanced with vegetable oils & butters, such as avocado oil, coconut oil, castor oil and shea butter. It is ideal for deep face and body cleansing scented and colored with 100% natural raw materials. Its smell is reminiscent of water orange and gives intense freshness. It is intended for face and body and is ideal for oily skin.

USEFUL TIPS
Use daily or as needed directly on fresh skin or by applying on a sponge to increase foam production. Like all natural soaps, it should be thoroughly moistened with water before use and thoroughly dried after use. These steps will help the product last longer.
Φυσικό σαπούνι ελαιολάδου με ενεργό άνθρακα, κόκκινη άργιλο, αιθέρια έλαια τεϊόδεντρου και πετίτγκρέιν.
Πρόκειται για ένα 100% φυσικό, πολυτελές, χειροποίητο σαπούνι ελαιολάδου, ενισχυμένο με φυτικά έλαια & βούτυρα, όπως τα έλαιαο αβοκάντο, λάδι καρύδας, καστορέλαιο και βούτυρο καριτέ. Είναι ιδανικό για βαθύ καθαρισμό προσώπου και σώματος αρωματισμένο και χρωματισμένο με 100% φυσικές πρώτες ύλες. Η μυρωδιά του θυμίζει νεράντζι και χαρίζει έντονη φρεσκάδα.
 Προορίζεται για πρόσωπο και σώμα και είναι ιδανικό για λιπαρές επιδερμίδες.
USEFUL TIPS
Χρησιμοποιήστε καθημερινά ή ανάλογα με τις ανάγκες σας απευθείας σε νωπή επιδερμίδα είτε με εφαρμογή σε σφουγγάρι για την αύξηση της παραγωγής αφρού.
Όπως όλα τα φυσικά σαπούνια, πρέπει να διαβρέχεται καλά με νερό πριν από τη χρήση και να στεγνώνει καλά μετά τη χρήση. Αυτά τα βήματα θα βοηθήσουν το προϊόν να διαρκέσει περισσότερο.
---