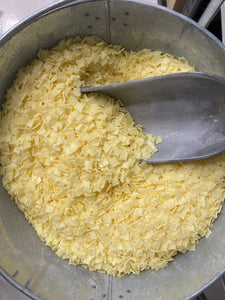 la droguerie ecologique
Soap flakes - in bulk / Νιφάδες σαπουνιού - Χύμα
Regular price
€1,20
€0,00
Unit price
per
Tax included.
Shipping
calculated at checkout.
 SOLD IN BULK! if purchased online, we will send you the product in used jars or bags! 
The soap flakes from La Droguerie Ecologique® are obtained from soap noodles (noodle-shaped) made in France only with soda and certified organic palm and coconut vegetable oils. Soap molecules are amphiphilic, which gives it the property of dissolving fats when used with water. The concentration of the soap put in a sachet is 72% in active fatty acids (therefore 28% water). Concentrated soap flakes are particularly effective, ecological, hypoallergenic and economical for multiple housework, laundry, soap, etc.
Recipe:
To do your laundry yourself, nothing could be easier and more economical! Boil 1 L of water and add 40 g of soap flakes. Mix until the flakes are completely dissolved. Add the essential oil of your choice and decant into a large container that will allow you to shake off the detergent that will have solidified as it cools. Put 1 glass of detergent per cycle directly on the laundry.
ΠΩΛΕΙΤΑΙ ΧΥΜΑ! εάν το αγοράσετε online, θα σας στείλουμε το προϊόν σε μεταχειρισμένα βάζα ή σακούλες!
Οι νιφάδες σαπουνιού από τη La Droguerie Ecologique® λαμβάνονται από νουντλς σαπουνιού (σε σχήμα νουντλς) που παρασκευάζονται στη Γαλλία μόνο με σόδα και πιστοποιημένα βιολογικά φυτικά έλαια φοίνικας και καρύδας. Τα μόρια του σαπουνιού είναι αμφίφιλα, γεγονός που του δίνει την ιδιότητα να διαλύει τα λίπη όταν χρησιμοποιείται με νερό. Η συγκέντρωση του σαπουνιού που τοποθετείται σε ένα φακελάκι είναι 72% σε ενεργά λιπαρά οξέα (άρα 28% νερό). Οι συμπυκνωμένες νιφάδες σαπουνιού είναι ιδιαίτερα αποτελεσματικές, οικολογικές, υποαλλεργικές και οικονομικές για πολλαπλές δουλειές του σπιτιού, πλυντήριο, σαπούνι κ.λπ.

συνταγή:
Για να πλύνετε μόνοι σας, τίποτα δεν θα μπορούσε να είναι πιο εύκολο και οικονομικό! Βράζουμε 1 L νερό και προσθέτουμε 40 g νιφάδες σαπουνιού. Ανακατεύουμε μέχρι να διαλυθούν τελείως οι νιφάδες. Προσθέστε το αιθέριο έλαιο της επιλογής σας και μεταγγίστε το σε ένα μεγάλο δοχείο που θα σας επιτρέψει να αποτινάξετε το απορρυπαντικό που θα έχει στερεοποιηθεί καθώς κρυώνει. Βάλτε 1 ποτήρι απορρυπαντικό ανά κύκλο απευθείας στα ρούχα.
---