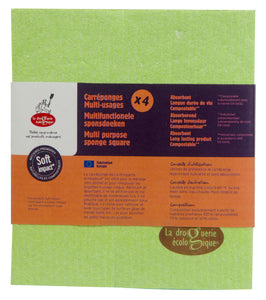 Anotherway
Set of 4 Ecological multi purpose sponge/Οικολογικό "βετεξ" πολλαπλών χρήσεων – σετ των 4
Regular price
€3,50
€0,00
Unit price
per
Tax included.
Shipping
calculated at checkout.
Do you want to take a small step (more) towards an ecological household? Our multi-purpose cloth is made for you.

Adopt our set of 4 cloths to maintain your home.
They are super effective, reusable and super soft. With their two sides, one for cleaning and one for absorbing, they will be your new household essential!

They have many advantages:
They are washable and biodegradable! 
Thanks to their natural fibers, they do not release any plastic microparticles during washing and machine washes!

What if you adopted a cloth that was just as effective, and above all more ecological?
Θέλετε να κάνετε ένα μικρό βήμα (περισσότερο) προς ένα οικολογικό νοικοκυριό; Το πανί πολλαπλών χρήσεων μας είναι φτιαγμένο για εσάς.

Υιοθετήστε το σετ των 4 υφασμάτων μας για να διατηρήσετε το σπίτι σας.
Είναι εξαιρετικά αποτελεσματικά, επαναχρησιμοποιήσιμα και εξαιρετικά μαλακά. Με τις δύο πλευρές τους, μία για καθαρισμό και μία για απορρόφηση, θα είναι απαραίτητα για το νέο σας νοικοκυριό!

Έχουν πολλά πλεονεκτήματα:
Πλένονται και βιοδιασπώνται!
Χάρη στις φυσικές τους ίνες, δεν απελευθερώνουν πλαστικά μικροσωματίδια κατά το πλύσιμο και το πλύσιμο στο πλυντήριο!

Τι θα γινόταν αν υιοθετούσατε ένα ύφασμα εξίσου αποτελεσματικό και κυρίως πιο οικολογικό;

---