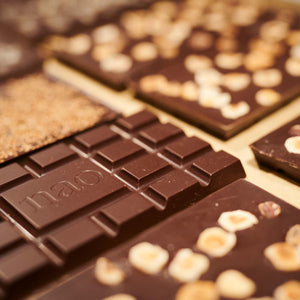 Nao bio
Set of 3 Chocolate tablet 80g Sao Tomé - Σετ 3 ταμπλέτες σοκολάτας 80g Σάο Τομέ
Regular price
€8,50
Sale price
€11,40
Unit price
per
Tax included.
Shipping
calculated at checkout.
Sold in bulk! Comes in a reusable fabric pouch.
Choose your set of 3 Belgian chocolate tablets:cocoa origin Sao Tomé

Specify in the comments of your order if you want to exclude one specific type of chocolate (hazelnuts, sesame, or orange)
Πωλείται χύμα! Έρχεται σε επαναχρησιμοποιήσιμη υφασμάτινη θήκη.
Επιλέξτε το σετ σας με 3 ταμπλέτες βελγικής σοκολάτας:κακάο προέλευσης Σάο Τομέ

Προσδιορίστε στα σχόλια της παραγγελίας σας εάν θέλετε να εξαιρέσετε ένα συγκεκριμένο είδος σοκολάτας (φουντούκια, σουσάμι ή πορτοκάλι)
---