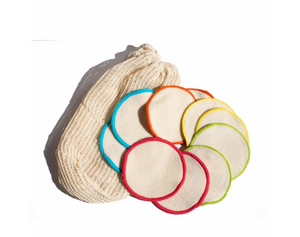 Anaé
Set of 10 Reusable Organic Cotton Makeup Remover Pads + Net bag - Σετ 10 pads ντεμακιγιάζ από οργανικό βαμβάκι + δίχτυ τσάντα
Regular price
€10,00
€0,00
Unit price
per
Tax included.
Shipping
calculated at checkout.
A set of 10 washable and GOTS certified organic cotton washable pads can easily be integrated in your zero waste and plastic free routine. You can use them with a cleansing lotion, floral water or dry oil.  You can reuse them as many times as necessary. Comes with a net washing bag
Economical and ecological alternative to single-use cotton pads!

The pads are from the zerowaste bathroom essentials!
Ένα σετ 10 pads από οργανικό βαμβάκι που πλένοντα. μπορούν εύκολα να ενσωματωθούν στη ρουτίνα σας χωρίς απορρίμματα και πλαστικά. Μπορείτε να τα χρησιμοποιήσετε με λοσιόν καθαρισμού, ανθόνερο ή ξηρό λάδι. Μπορείτε να τα επαναχρησιμοποιήσετε όσες φορές χρειαστεί.
Συνοδεύεται από δίχτυ τσάντα πλυσίματος Οικονομική και οικολογική εναλλακτική στα βαμβακερά επιθέματα μιας χρήσης!
Τα pads είναι από τα απαραίτητα για το zerowaste μπάνιο!
---