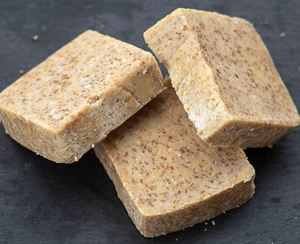 Kalliope's
Sensitive Skin Oats & Honey Soap / Σαπούνι βρώμης & μελιού για ευαίσθητο δέρμα- Kalliope's - 100 gr
Regular price
€4,00
€0,00
Unit price
per
Tax included.
Shipping
calculated at checkout.
Organic Olive Oil Soap | Greek EVOO Cold Process
Handmade herbal soap, made from organic virgin olive oil produced exclusively in Kalliope's olive groves in Lefkada, a beautiful island of the Ionian Sea.
This particular soap suits well to people with sensitive skin and tendency for redness. It contains raw herbal honey from a local beekeeper and organic oats to help retain moisture and soothe the skin.
It is recommended for use both on the face and the body.

Kalliope's handcraft their soaps in small batches, using the slow, cold process soapmaking (room temperature) method that ensures all beneficial components of the ingredients will be retained in the soap. With the cold method, the oils are not heated, and thus all their beneficial constituents are preserved in the final product, delivering a gentle high quality soap.

Cold process | Vegan | Palm-free | Zero Waste | Cruelty-free | Toxin-free

Βιολογικό σαπούνι ελαιόλαδου | Ελληνική EVOO Ψυχρή Διαδικασία
Χειροποίητο φυτικό σαπούνι, από βιολογικό παρθένο ελαιόλαδο που παράγεται αποκλειστικά στους ελαιώνες της Καλλιόπης στη Λευκάδα, ένα πανέμορφο νησί του Ιονίου.
Το συγκεκριμένο σαπούνι ταιριάζει πολύ σε άτομα με ευαίσθητο δέρμα και τάση για ερυθρότητα. Περιέχει ακατέργαστο φυτικό μέλι από ντόπιο μελισσοκόμο και βιολογική βρώμη που βοηθά στη διατήρηση της υγρασίας και καταπραΰνει το δέρμα.
Συνιστάται για χρήση τόσο στο πρόσωπο όσο και στο σώμα.
Η Kalliope κατασκευάζει τα σαπούνια της σε μικρές παρτίδες, χρησιμοποιώντας την αργή, κρύα διαδικασία σαπωνοποιίας (θερμοκρασία δωματίου) που διασφαλίζει ότι όλα τα ευεργετικά συστατικά των συστατικών θα διατηρηθούν στο σαπούνι. Με την ψυχρή μέθοδο, τα λάδια δεν θερμαίνονται και έτσι όλα τα ευεργετικά συστατικά τους διατηρούνται στο τελικό προϊόν, αποδίδοντας ένα απαλό σαπούνι υψηλής ποιότητας.
Ψυχρή διαδικασία | Vegan | Χωρίς παλάμες | Μηδενικά Απόβλητα | Χωρίς σκληρότητα | Χωρίς τοξίνες
---