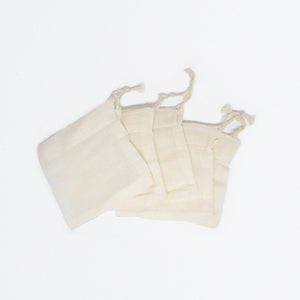 ah table !
Reusable tea and infusion bag in Organic Cotton / Επαναχρησιμοποιήσιμο φακελάκι τσαγιού
Regular price
€0,80
€0,00
Unit price
per
Tax included.
Shipping
calculated at checkout.
Sold in bulk by the unit !
Machine washable tea or infusion filters.

To naturally infuse your teas and infusions in any type of cups, mugs, teapots or kettles thanks to the long enough lace. It's the perfect eco-friendly and zero waste alternative to disposable paper tea bags.
Πωλείται χύμα ανά μονάδα!
Φίλτρα τσαγιού ή έγχυσης που πλένονται στο πλυντήριο.

Για να εμποτίσετε φυσικά τα τσάγια και τα αφεψήματα σας σε κάθε είδους φλιτζάνια, κούπες, τσαγιέρες ή βραστήρες χάρη στην αρκετά μακριά δαντέλα. Είναι η τέλεια φιλική προς το περιβάλλον και μηδενική εναλλακτική λύση στα χάρτινα φακελάκια τσαγιού μιας χρήσης.
---