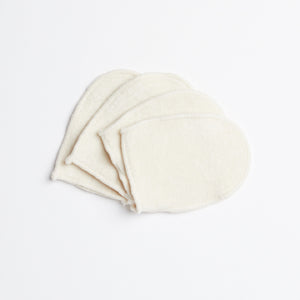 Anaé
Reusable makeup remover glove – Επαναχρησιμοποιούμενο γάντι ντεμακιγιάζ
Regular price
€1,10
€0,00
Unit price
per
Tax included.
Shipping
calculated at checkout.
 Sold in bulk by the unit!

100% cotton gloves, reusable and gentle on your skin.
To be used like a classic cotton except that here, they are machine washable. An undeniable economy.
GOTS certified.

To be used for make-up removal, for the application of tonics, lotions or for the cleansing of children...

• Make-up removal: moisten the glove with water and apply your make-up remover or your vegetable oil (our favorites for removing make-up: sweet almond, jojoba or even olive!).
• Pre-washing: if you want to keep your cottons immaculate, you can pre-wash them by hand with Marseille soap. Very effective for a pre-wash!
• Washing: machine washing at 30° is sufficient. Program at 40° if you plan to put sodium percarbonate in your machine to whiten the laundry.
• Whiten your cotton pads: after make-up removal, your cotton pads may lose their original color a little. Nothing could be easier to solve: put 1 tablespoon of sodium percarbonate and 1 tablespoon of baking soda in boiling water. From the first bubbles, remove the pan from the heat because it will rise very quickly. Immerse your bleaching cottons in it and let them rest overnight. The next day, put them in the washing machine on the usual cycle. Like new!

Πωλείται χύμα μεμονωμένα!
Γάντια από 100% βαμβάκι, επαναχρησιμοποιήσιμα και απαλά για το δέρμα σας.
Χρησιμοποιούνται σαν κλασικά βαμβακερά, εκτός από το ότι εδώ πλένονται στο πλυντήριο. Μια αναμφισβήτητη οικονομία.

Για χρήση για ντεμακιγιάζ, για την εφαρμογή τονωτικών, λοσιόν ή για τον καθαρισμό των παιδιών...

• Αφαίρεση μακιγιάζ: βρέξτε το γάντι με νερό και εφαρμόστε το ντεμακιγιάζ ή το φυτικό σας λάδι (τα αγαπημένα μας για ντεμακιγιάζ: γλυκό αμύγδαλο, jojoba ή ακόμα και ελιά!).
• Πρόπλυση: αν θέλετε να διατηρήσετε τα βαμβακερά σας άψογα, μπορείτε να τα προπλύνετε στο χέρι με σαπούνι Μασσαλίας. Πολύ αποτελεσματικό για πρόπλυση!
• Πλύσιμο: αρκεί το πλύσιμο στο πλυντήριο στους 30°. Προγραμματίστε στις 40° εάν σκοπεύετε να βάλετε υπερανθρακικό νάτριο στη μηχανή σας για να λευκάνετε τα ρούχα.
• Λευκάνετε τα βαμβακερά σας: μετά το ντεμακιγιάζ, τα βαμβακερά σας μπορεί να χάσουν λίγο το αρχικό τους χρώμα. Τίποτα δεν θα μπορούσε να είναι πιο εύκολο να λυθεί: βάλτε 1 κουταλιά της σούπας υπερανθρακικό νάτριο και 1 κουταλιά της σούπας μαγειρική σόδα σε βραστό νερό. Από τις πρώτες φουσκάλες αποσύρουμε την κατσαρόλα από τη φωτιά γιατί θα φουσκώσει πολύ γρήγορα. Βυθίστε τα βαμβάκια λεύκανσης σε αυτό και αφήστε τα να ξεκουραστούν όλη τη νύχτα. Την επόμενη μέρα, βάλτε τα στο πλυντήριο με τον συνηθισμένο κύκλο. Σαν καινούργιο!

---