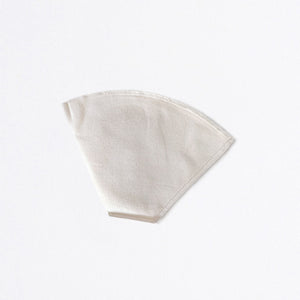 ah table !
Reusable Coffee filter in Organic Cotton / Επαναχρησιμοποιούμενο φίλτρο καφέ
Regular price
€2,50
€0,00
Unit price
per
Tax included.
Shipping
calculated at checkout.
Sold in bulk by the unit !
Finally a solution to the mountains of plastic and aluminum waste generated by single-use coffee pods! What if we went back to our grandmothers' café? The one we savor after watching it fill our cup. The one that perfumes the house with a sweet smell of roasting when you wake up. The one that is zero waste?
Whether you have an electric coffee maker with a disposable filter or a filter holder, organic cotton coffee filters are used like classic paper filters. The only difference and not the least, once the coffee grounds have been thrown away (in the compost!), you just have to rinse it with clear water and let it dry for your next break.

INGREDIENTS
100% GOTS certified organic cotton

ORIGIN
Manufacturing India
Πωλείται χύμα ανά μονάδα!
Επιτέλους μια λύση στα βουνά των απορριμμάτων πλαστικού και αλουμινίου που δημιουργούνται από κάψουλες καφέ μίας χρήσης! Κι αν γυρνούσαμε στο καφενείο των γιαγιάδων μας; Αυτό που γευόμαστε αφού το δούμε να γεμίζει το φλιτζάνι μας. Αυτό που αρωματίζει το σπίτι με μια γλυκιά μυρωδιά ψησίματος όταν ξυπνάς. Αυτή που είναι μηδενική σπατάλη;
Είτε έχετε ηλεκτρική καφετιέρα με φίλτρο μιας χρήσης είτε θήκη φίλτρου, τα φίλτρα καφέ από οργανικό βαμβάκι χρησιμοποιούνται όπως τα κλασικά χάρτινα φίλτρα. Η μόνη διαφορά και όχι η ελάχιστη, μόλις πετάξετε τα κατακάθια του καφέ (στο κομπόστ!), απλά πρέπει να τον ξεπλύνετε με καθαρό νερό και να τον αφήσετε να στεγνώσει για το επόμενο διάλειμμά σας.

ΣΥΣΤΑΤΙΚΑ
100% GOTS πιστοποιημένο οργανικό βαμβάκι

ΠΡΟΕΛΕΥΣΗ
Κατασκευή Ινδία
---