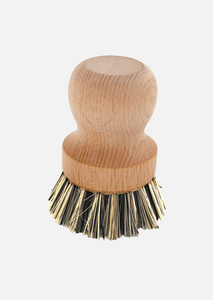 la droguerie ecologique
Pan brush wood+fiber / Βούρτσα ταψιού ξύλο + ίνα
Regular price
€3,70
€0,00
Unit price
per
Tax included.
Shipping
calculated at checkout.
The pan brush is used to scrape and clean the bottom of pans. It is an indispensable accessory for cast iron cookware. It is also suitable for all other household chores. Its ergonomic handle makes it easy to hold.
Protect the wood of your brush every 6 months with a thin layer of linseed oil.
Dry hair down.
This brush is made of vegetal fibers and FSC® certified beech. This means that the wood comes from 100% sustainably managed forests. Western European manufacturing.
Η βούρτσα του τηγανιού χρησιμοποιείται για το ξύσιμο και τον καθαρισμό του πάτου των τηγανιών. Είναι ένα απαραίτητο αξεσουάρ για μαντεμένια μαγειρικά σκεύη. Είναι επίσης κατάλληλο για όλες τις άλλες δουλειές του σπιτιού. Η εργονομική λαβή του το καθιστά εύκολο στο κράτημα.
Προστατέψτε το ξύλο της βούρτσας σας κάθε 6 μήνες με ένα λεπτό στρώμα λινελαίου.
]Στεγνώστε τα μαλλιά προς τα κάτω.
Αυτή η βούρτσα είναι κατασκευασμένη από φυτικές ίνες και πιστοποιημένη οξιά FSC®. Αυτό σημαίνει ότι το ξύλο προέρχεται από δάση 100% βιώσιμης διαχείρισης. Δυτικοευρωπαϊκή κατασκευή.
---