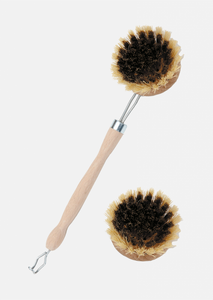 la droguerie ecologique
Refillable brass/fiber dish brush - επαναφορτιζόμενη βούρτσα πιάτων από ορείχαλκο/ίνες
Regular price
€3,00
€0,00
Unit price
per
Tax included.
Shipping
calculated at checkout.
The rechargeable brass/fiber dish brush is used to scrub the bottom of stubborn pots.
Very practical with its suspension hook which allows the brush to be drained well. Diameter 4 cm, length: 24 cm.
Protect the wood of your brush every 6 months with a thin layer of linseed oil. Hang to dry. The dish brush refill is sold separately under the reference: Brass / fiber dish brush refill. Ecological interests This brush is made of brass fibers and untreated beech from sustainably managed local forests.
The head is replaceable, no need to change the handle! Western European manufacturing.
Η επαναφορτιζόμενη βούρτσα πιάτων από ορείχαλκο/ίνες χρησιμοποιείται για το τρίψιμο του πάτου των επίμονων δοχείων.
Πολύ πρακτικό με το άγκιστρο ανάρτησής του που επιτρέπει την καλή αποστράγγιση της βούρτσας.
Διάμετρος 4 cm, μήκος: 24 cm. Προστατέψτε το ξύλο της βούρτσας σας κάθε 6 μήνες με ένα λεπτό στρώμα λινελαίου. Κρεμάστε για να στεγνώσει. Το ανταλλακτικό πιάτων πωλείται χωριστά κάτω από την αναφορά: Ανταλλακτικό πινέλου από ορείχαλκο / ίνες.
---