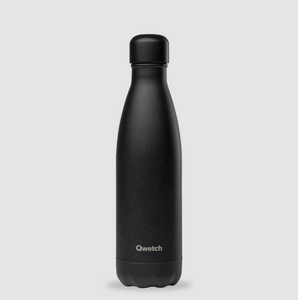 Qwetch
Originals All Black Insulated Water Bottle - 500 ml - Qwetch
Regular price
€26,00
€0,00
Unit price
per
Tax included.
Shipping
calculated at checkout.
The stylish insulated bottle to keep you hydrated in style, with a wide range of colors and patterns to match any tastes.
Lid: 304 (18/8) stainless steel
Silicone seal
Structure in PP5, BPA-free

Food contact with stainless steel.
Height: 26 cm
Diameter: 7 cm
Opening diameter: 3.2 cm
Weight: 0.30 kg
Το κομψό μονωμένο μπουκάλι για να σας κρατά ενυδατωμένο με στυλ, με μεγάλη γκάμα χρωμάτων και μοτίβων που ταιριάζουν σε κάθε γούστο.
Καπάκι: 304 (18/8) ανοξείδωτο
Σφράγιση σιλικόνης
Δομή σε PP5, χωρίς BPA
Επαφή τροφίμων με ανοξείδωτο χάλυβα.
Ύψος: 26 cm
Διάμετρος: 7 cm
Διάμετρος ανοίγματος: 3,2 cm
Βάρος: 0,30 kg
---