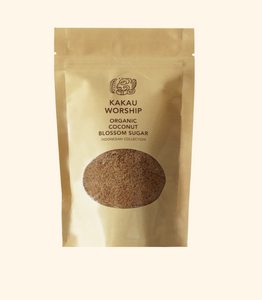 Kakau Worship
Organic Coconut Sugar in bulk / Βιολογική ζάχαρη καρύδας χύμα - Fair Trade
Regular price
€0,50
€0,00
Unit price
per
Tax included.
Shipping
calculated at checkout.
Sold in bulk! Choose the amount you want!
Coconut sugar is a natural sweetener derived, from the unopened blossom of the coconut tree (Cocos Nucifera). Its taste is similar to brown sugar, but with distinctive notes of caramel. There is evidence, which indicates that coconut sugar was used even in Paleolithic times.
Πωλείται χύμα! Επιλέξτε το ποσό που θέλετε!
Η ζάχαρη καρύδας είναι ένα φυσικό γλυκαντικό που προέρχεται από το άνοιγμα του δέντρου καρύδας (Cocos Nucifera). Η γεύση του μοιάζει με την καστανή ζάχαρη, αλλά με χαρακτηριστικές νότες καραμέλας. Υπάρχουν στοιχεία, που δείχνουν ότι η ζάχαρη καρύδας χρησιμοποιήθηκε ακόμη και στην Παλαιολιθική εποχή.
---