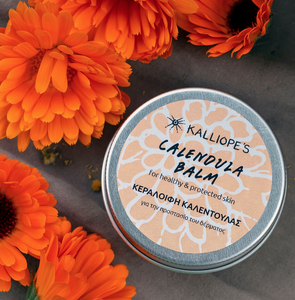 Kalliope's
Organic Calendula beeswax & olive oil balm / Βιολογικη κεραλοιφή με καλέντουλας και ελαιόλαδο - Kalliope's
Regular price
€5,00
€0,00
Unit price
per
Tax included.
Shipping
calculated at checkout.
Calendula is a well-known herbal remedy for the repair of the skin from any source of damage, often regarded as panacea for skin issues. A calendula balm finds plenty of uses in everyday life. It's a very simple and effective concoction that is worth a place in your on-the-go gear, for anything that may arise.
This calendula balm is made with organic virgin olive oil of our produce and fair trade, local raw beeswax. The calendula petals are infused into the oil so as to make a potent extract that carries all the healing properties of calendula. It also contains regerative vitamin E. It is very gentle and can be used on delicate skin. It's a very simple and effective formula. It doesn't contain essential oils.

Used for the care of any skin irritations and small wounds. Suitable for tender and delicate skin. Ideal for dry hands and feet, corns and callusses. Helps on the gradual fading of dark spots and elimination of yeast infections.

Η καλέντουλα είναι ένα πολύ γνωστό φυτικό φάρμακο για την αποκατάσταση του δέρματος από οποιαδήποτε πηγή βλάβης, που συχνά θεωρείται πανάκεια για δερματικά προβλήματα. Ένα βάλσαμο καλέντουλας βρίσκει πολλές χρήσεις στην καθημερινή ζωή. Είναι ένα πολύ απλό και αποτελεσματικό παρασκεύασμα που αξίζει μια θέση στον εξοπλισμό σας εν κινήσει, για οτιδήποτε μπορεί να προκύψει.
Αυτό το βάλσαμο καλέντουλας παρασκευάζεται με βιολογικό παρθένο ελαιόλαδο των προϊόντων μας και του δίκαιου εμπορίου μας, τοπικό ακατέργαστο κερί μέλισσας. Τα πέταλα καλέντουλας εγχέονται στο λάδι έτσι ώστε να δημιουργηθεί ένα ισχυρό εκχύλισμα που φέρει όλες τις θεραπευτικές ιδιότητες της καλέντουλας. Περιέχει επίσης αναζωογονητική βιταμίνη Ε. Είναι πολύ απαλό και μπορεί να χρησιμοποιηθεί σε ευαίσθητο δέρμα. Είναι μια πολύ απλή και αποτελεσματική φόρμουλα. Δεν περιέχει αιθέρια έλαια.

Χρησιμοποιείται για την περιποίηση τυχόν ερεθισμών του δέρματος και μικρών πληγών. Κατάλληλο για τρυφερό και ευαίσθητο δέρμα. Ιδανικό για ξηρά χέρια και πόδια, καλαμπόκι και κάλους. Βοηθά στο σταδιακό ξεθώριασμα των μαύρων κηλίδων και στην εξάλειψη των μολύνσεων από ζυμομύκητες.
---