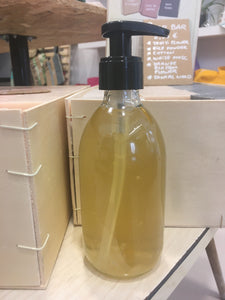 BIO.ME
Natural Shower Gel with Aloe & Lavender - in bulk / Φυσικό Αφρόλουτρο με Αλόη & Λεβάντα -χύμα
Regular price
€1,20
€0,00
Unit price
per
Tax included.
Shipping
calculated at checkout.
Choose the amount you need from 100ml to 2L and we will send it to you in one of our free jars repurposed, or separately add to your basket a glass bottle of your choice (300ml or 1L). The next refills will be sent to you in a recycled container or bring/send us back yours!
The gel produced from aloe leaves contains many active ingredients, which offer unique benefits for the skin:
• deeply moisturizes the skin without leaving a greasy feeling
• helps the skin to heal quickly as it stimulates the growth of new cells • is rich in antioxidants, such as vitamins A, C and E, which protect the skin from oxidative stress and relieve inflammation and acne
• has natural rejuvenating properties and improves skin elasticity
Διαλέξτε την ποσότητα που χρειάζεστε από 100ml έως 2L και θα σας την στείλουμε σε ένα από τα δωρεάν βάζα μας, ανανεωμένα ή προσθέστε ξεχωριστά στο καλάθι σας ένα γυάλινο μπουκάλι της επιλογής σας (300ml ή 1L). Τα επόμενα ανταλλακτικά θα σας σταλούν σε ανακυκλωμένο δοχείο ή φέρτε/στείλτε μας πίσω το δικό σας!
Το τζελ που παράγεται από τα φύλλα της αλόης περιέχει πολλά ενεργά συστατικά, τα οποία προσφέρουν μοναδικά οφέλη για την επιδερμίδα:
• ενυδατώνει βαθιά το δέρμα χωρίς να αφήνει μια λιπαρή αίσθηση
• βοηθά το δέρμα να επουλωθεί γρήγορα καθώς διεγείρει την ανάπτυξη νέων κυττάρων
• είναι πλούσιο σε αντιοξειδωτικά, όπως οι βιταμίνες A, C και Ε, που προστατεύουν το δέρμα από το οξειδωτικό στρες και ανακουφίζουν από τη φλεγμονή και την ακμή
• έχει φυσικά αναζωογονητικές ιδιότητες και βελτιώνει την ελαστικότητα του δέρματος
---