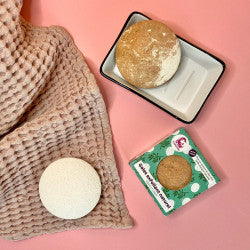 Lamazuna
Natural Scrub Stone / Φυσική πέτρα απολέπισης - Lamazuna
Regular price
€16,90
€0,00
Unit price
per
Tax included.
Shipping
calculated at checkout.
Life-long lasting!

No more coarse and abrasive pumice stones! This natural and gentle exfoliating stone based on French clay was made in the Drôme. It naturally and gently exfoliates the face and the body.
Directions for use:
It is extremely important that the stone is always well-moistened before use to avoid burns.
Wet the stone completely.
Exfoliate the body or face using circular movements without exerting too much pressure.
Ideal before an epilation.
Cleaning and care:
Allow the stone to dry in a well-ventilated place - in the Lamazuna soap pouch, for example.
Be careful not to drop the stone as this may damage it. Sand down any nicks with a sharpening stone to give it a good-as-new look.
Διάρκεια ζωής!

Όχι άλλες χοντρές και λειαντικές ελαφρόπετρες! Αυτή η φυσική και απαλή πέτρα απολέπισης με βάση τον γαλλικό πηλό κατασκευάστηκε στο Drôme. Απολεπίζει φυσικά και απαλά το πρόσωπο και το σώμα.

Οδηγίες χρήσης:

Είναι εξαιρετικά σημαντικό η πέτρα να υγραίνεται πάντα καλά πριν από τη χρήση για να αποφευχθούν εγκαύματα.
Βρέξτε τελείως την πέτρα.
Κάντε απολέπιση στο σώμα ή το πρόσωπο κάνοντας κυκλικές κινήσεις χωρίς να ασκείτε υπερβολική πίεση.
Ιδανικό πριν την αποτρίχωση.
Καθαρισμός και περιποίηση:

Αφήστε την πέτρα να στεγνώσει σε ένα καλά αεριζόμενο μέρος - στη θήκη σαπουνιού Lamazuna, για παράδειγμα.
Προσέξτε να μην πέσει η πέτρα γιατί μπορεί να την καταστρέψετε. Τρίψτε τυχόν εγκοπές με μια πέτρα ακονίσματος για να του δώσετε μια καλή σαν καινούργια εμφάνιση.
---