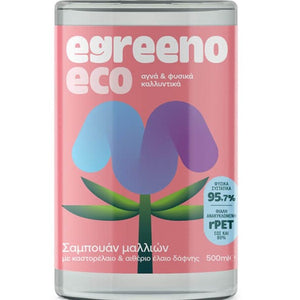 egreeno
Natural hair shampoo, with castor oil and laurel essential oil - in bulk / Φυσικό Σαμπουάν μαλλιών Egreeno Eco, με καστορέλαιο και αιθέριο έλαιο δάφνης -χύμα
Regular price
€1,00
€0,00
Unit price
per
Tax included.
Shipping
calculated at checkout.
Choose the amount you need from 100ml to 1L and we will send it to you in one of our free jars repurposed, or separately add to your basket a glass bottle of your choice (300ml or 1L). The next refills will be sent to you in a recycled container or bring/send us back yours!
Egreeno Eco Natural Shampoo, with essential oils / 500ml. It offers the ideal solution for anyone looking for top quality for clean and healthy hair. Extremely pure, natural with a wonderful aroma, it is the ideal natural hair shampoo, with essential oils and castor oil, for daily use.
It cleans your hair, while at the same time, due to the castor oil, the natural cosmetic ingredients and oils it contains, it treats and nourishes the hair. Its excellent fragrance lasts and ensures your hair smells great. Its pure composition is hypoallergenic. Ideal for people with sensitive scalp and skin.

INGREDIENTS OF NATURAL ORIGIN: 95.7%

BIODEGRADABLE INGREDIENTS: 95.7%
Διαλέξτε την ποσότητα που χρειάζεστε από 100ml έως 1L και θα σας την στείλουμε σε ένα από τα δωρεάν βάζα μας, ανανεωμένα ή προσθέστε ξεχωριστά στο καλάθι σας ένα γυάλινο μπουκάλι της επιλογής σας (300ml ή 1L). Τα επόμενα ανταλλακτικά θα σας σταλούν σε ανακυκλωμένο δοχείο ή φέρτε/στείλτε μας πίσω το δικό σας!
Φυσικό Σαμπουάν Egreeno Eco, με αιθέρια έλαια / 500ml. Προσφέρει την ιδανική λύση για τον καθένα που αναζητά την κορυφαία ποιότητα για καθαρά και υγιή μαλλιά. Εξαιρετικά αγνό, φυσικό με υπέροχο άρωμα, είναι το ιδανικό φυσικό σαμπουάν μαλλιών, με αιθέρια έλαια και καστορέλαιο, για καθημερινή χρήση. 
Καθαρίζει τα μαλλιά σας, ενώ ταυτόχρονα, λόγω του καστορέλαιου, των φυσικών καλλυντικών συστατικών και ελαίων που περιέχει, τα περιποιείται και τρέφει την τρίχα. Το εξαιρετικό του άρωμα διαρκεί και εξασφαλίζει υπέροχη μυρωδιά στο μαλλιά σας. Η αγνή σύστασή του είναι υποαλλεργική. Ιδανικό για άτομα με ευαίσθητο τριχωτό κεφαλής και επιδερμίδα.
ΣΥΣΤΑΤΙΚΑ ΦΥΣΙΚΗΣ ΠΡΟΕΛΕΥΣΗΣ: 95,7%
ΒΙΟΑΠΟΙΚΟΔΟΜΗΣΙΜΑ ΣΥΣΤΑΤΙΚΑ: 95,7%
Σύμφωνα με τον Κανονισμό (ΕΕ) αριθμ.648/2004: Ανιονικές επιφανειοδραστικές ουσίες τουλάχιστον 5% αλλά κάτω του 15%, Μη ιονικές επιφανειοδραστικές ουσίες κάτω του 5%, Αμφοτερικές επιφανειοδραστικές ουσίες κάτω του 5%, Σάπωνες κάτω του 5%, Αρωματικές ουσίες, Συντηρητικά (Methylchloroisothiazolinone, Methylisothiazolinone, Octylisothiazolinone) *ποσοστό κάτω του 0,03%
---