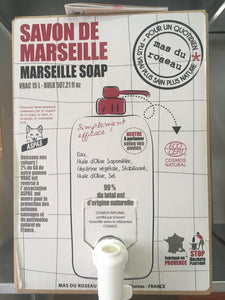 Mas du Roseau
Natural Liquid Marseille Soap in bulk - Φυσικό Υγρό Σαπούνι Μασσαλίας χύμα
Regular price
€1,20
€0,00
Unit price
per
Tax included.
Shipping
calculated at checkout.
 Body wash made from 100% Μarseille soap in Provence. 
Choose the amount you need from 100ml to 1L and we will send it to you in one of our free jars repurposed, or separately add to your basket a glass bottle of your choice (300ml or 1L). The next refills will be sent to you in a recycled container or bring/send us back yours!
Gentle for all the family, for hands face and body with a subtle natural smell!
Αφρόλουτρο από 100% σαπούνι Μασσαλίας της Προβηγκίας.
Διαλέξτε την ποσότητα που χρειάζεστε από 100ml έως 1L και θα σας την στείλουμε σε ένα από τα δωρεάν βάζα μας, ανανεωμένα ή προσθέστε ξεχωριστά στο καλάθι σας ένα γυάλινο μπουκάλι της επιλογής σας (300ml ή 1L). Τα επόμενα ανταλλακτικά θα σας σταλούν σε ανακυκλωμένο δοχείο ή φέρτε/στείλτε μας πίσω το δικό σας!
Απαλό για όλη την οικογένεια, για τα χέρια, το πρόσωπο και το σώμα, με διακριτική φυσική μυρωδιά!
---