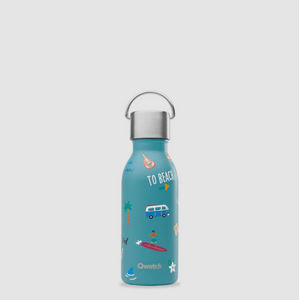 Qwetch
Kids Honolulu Blue Insulated Water Bottle - 350 ml - Qwetch
Regular price
€25,00
€0,00
Unit price
per
Tax included.
Shipping
calculated at checkout.
The Kids bottle is designed to keep pace with children. Easy to use, the isothermal bottle in recycled stainless steel can be taken everywhere: on vacation, to school or to the playground. The ideal ally for all adventures.
Bottle: 90% recycled 304 (18/8) stainless steel

Lid: 304 (18/8) stainless steel
Silicone seal
Structure in PP5, BPA-free

Food contact with stainless steel.

Height: 19.5 cm
Diameter: 6.5 cm
Weight: 263 g
Opening diameter: 3.5 cm
Το μπουκάλι Kids έχει σχεδιαστεί για να συμβαδίζει με τα παιδιά. Εύκολο στη χρήση, το ισοθερμικό μπουκάλι από ανακυκλωμένο ανοξείδωτο χάλυβα μπορεί να μεταφερθεί παντού: στις διακοπές, στο σχολείο ή στην παιδική χαρά. Ο ιδανικός σύμμαχος για όλες τις περιπέτειες.
Μπουκάλι: 90% ανακυκλωμένο 304 (18/8) ανοξείδωτο ατσάλι

Καπάκι: 304 (18/8) ανοξείδωτο
Σφράγιση σιλικόνης
Δομή σε PP5, χωρίς BPA

Επαφή τροφίμων με ανοξείδωτο χάλυβα.

Ύψος: 19,5 cm
Διάμετρος: 6,5 cm
Βάρος: 263 g
Διάμετρος ανοίγματος: 3,5 cm
---