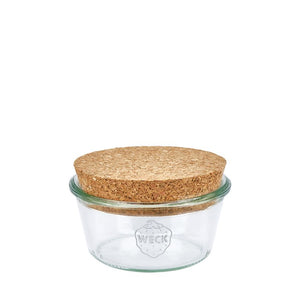 ah table !
Glass storage jar + cork stopper / 300ml - Γυάλινο βάζο αποθήκευσης + πώμα από φελλό / 300 ml
Regular price
€3,50
€0,00
Unit price
per
Tax included.
Shipping
calculated at checkout.
With its cork stopper, this Weck glass storage jar will fit nicely on your shelves or in your cupboards. It is ideal for storing your bulk purchases such as rice, legumes, cereals, seeds, biscuits, etc.

Weck storage jars can be stacked on top of each other.
Με το πώμα από φελλό, αυτό το γυάλινο βάζο αποθήκευσης Weck θα ταιριάζει όμορφα στα ράφια ή στα ντουλάπια σας. Είναι ιδανικό για την αποθήκευση των μεγάλων αγορών σας όπως ρύζι, όσπρια, δημητριακά, σπόροι, μπισκότα κ.λπ.

Τα βάζα αποθήκευσης Weck μπορούν να στοιβάζονται το ένα πάνω στο άλλο.
Όγκος: 372900ml
Βάρος: 192g
Ύψος χωρίς καπάκι: 5,5 cm
Ύψος με καπάκι: 5,9 cm
Διάμετρος: 11 cm
---