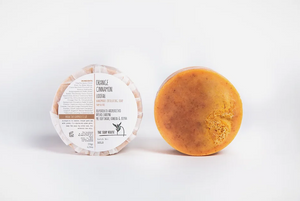 The Soap House
Exfoliating soap with Luffa, Orange & Cinnamon / Απολεπιστικό σαπούνι με Λούφα, Πορτοκάλι & Κανέλα - 120 gr
Regular price
€8,00
€0,00
Unit price
per
Tax included.
Shipping
calculated at checkout.
Loofah sponge soaked in natural olive oil soap, with orange, cinnamon, turmeric and paprika.

handmade luxury olive oil soap enriched with vegetable oils and butters such as coconut, almond, castor, shea and cocoa butters, with natural colorants such as turmeric, paprika and cinnamon and essential oils. A piece of natural loofah sponge has been soaked in the soap.

It is intended for body exfoliation and due to its rough texture it is not indicated for very sensitive skins.Use up to 4 times a week, ideally in upward motions, directly on your skin to intensely exfoliate, or apply to a sponge for gentler exfoliation and increased lather production.


Like all natural soaps, it should be thoroughly moistened with water before use and thoroughly dried after use. These steps will help the product last longer.
Φυσικό σφουγγάρι λούφας εμποτισμένο σε φυσικό σαπούνι ελαιολάδου, με πορτοκάλι, κανέλα, κουρκουμά και πάπρικα.
Πρόκειται για ένα 100% φυσικό χειροποίητο πολυτελές σαπούνι ελαιολάδου ενισχυμένο με φυτικά έλαια και βούτυρα όπως τα λάδι καρύδας, αμυγδαλέλαιο, καστορέλαιο, βούτυρο καριτέ και κακάο, με φυσικές χρωστικές όπως ο κουρκουμάς, η πάπρικα και η κανέλα και αιθέρια έλαια πορτοκάλι και κανέλα. Στο σαπούνι έχει εμποτιστεί κομμάτι από φυσικό σφουγγάρι λούφας.
Προορίζεται για απολέπιση σώματος και λόγω της τραχιάς του υφής δεν ενδείκνυται για πολύ ευαίσθητες επιδερμίδες.  
Χρησιμοποιήστε έως 4 φορές την εβδομάδα, ιδανικά με ανωδικές κινήσεις, απευθείας στην επιδερμίδα σας για να κάνετε έντονη απολέπιση ή εφαρμόστε σε ένα σφουγγάρι για πιο ήπια απολέπιση και αύξηση της παραγωγής αφρού. 
Όπως όλα τα φυσικά σαπούνια, πρέπει να διαβρέχεται καλά με νερό πριν από τη χρήση και να στεγνώνει καλά μετά τη χρήση. Αυτά τα βήματα θα βοηθήσουν το προϊόν να διαρκέσει περισσότερο.
INGREDIENTS

Olea Europaea (Olive) Fruit Oil, Water (Aqua), Cocos Nucifera (Coconut) Oil, Sodium Hydroxide, Butyrospermum Parkii (Shea) Butter, Theobroma Cacao (Cocoa) Seed Butter, Ricinus Communis Seed (Castor) Oil, Citrus Aurantium Dulcis (Orange) Peel Oil, Cinnamomum Zeylanicum (Cinnamon) Bark Oil (and) Powder, Citral*, d-Limonene*,Geraniol*, Linalool*, Cinnamal*, Eugenol*, Benzyl Benzoate*
* Naturally occuring in essential oils / Προκύπτουν φυσικά στα αιθέρια έλαια
---