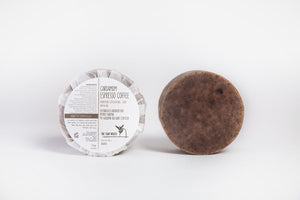 The Soap House
Exfoliating soap with Espresso Coffee & Cardamom / Απολεπιστικό σαπούνι με Καφέ Εσπρέσσο & Κάρδαμο - 120 gr
Regular price
€8,00
€0,00
Unit price
per
Tax included.
Shipping
calculated at checkout.
Natural olive oil soap with espresso coffee & cardamom.

This is a 100% natural olive oil exfoliating soap enhanced with vegetable oils and butters such as coconut oil, castor oil, shea butter, cocoa butter, espresso coffee grounds, espresso tea & cardamom essential oil.

Intended for body exfoliation and suitable for all skin types.
Its use can help stimulate circulation, making it useful in treating the orange peel look and treating cellulite in the areas it is applied to.

It is available in a larger bar size and lasts longer due to its hardness. 
Use up to 4 times a week, ideally in upward motions, directly on your skin to intensely exfoliate, or apply to a sponge for gentler exfoliation and increased lather production.

Like all natural soaps, it should be thoroughly moistened with water before use and thoroughly dried after use. These steps will help the product last longer.
Φυσικό σαπούνι ελαιολάδου με καφέ εσπρέσσο & κάρδαμο.

Πρόκειται για ένα 100% φυσικό απολεπιστικό σαπούνι ελαιολάδου ενισχυμένο με φυτικά έλαια και βούτυρα όπως τα λάδι καρύδας, καστορέλαιο, βούτυρο καριτέ, βούτυρο κακάο, τριμμένος καφές εσπρέσσο, αφέψημα εσπρέσσο & αιθέριο έλαιο κάρδαμο.
Προορίζεται για απολέπιση σώματος και ενδείκνυται για κάθε τύπο επιδερμίδας.
Η χρήση του μπορεί να βοηθήσει στην τόνωση της κυκλοφορίας, με αποτέλεσμα να είναι χρήσιμο στην αντιμετώπιση της όψης φλοιού πορτοκαλιού και στην αντιμετώπιση της κυτταρίτιδας στις περιοχές που εφαρμόζεται.
Διατίθεται σε μαγαλύτεροτυ μεγέθους μπάρα και διαρκεί περισσότερο λόγω της σκληρότητάς του. 
Χρησιμοποιήστε έως 4 φορές την εβδομάδα, ιδανικά με ανωδικές κινήσεις, απευθείας στην επιδερμίδα σας για να κάνετε έντονη απολέπιση ή εφαρμόστε σε ένα σφουγγάρι για πιο ήπια απολέπιση και αύξηση της παραγωγής αφρού. 
Όπως όλα τα φυσικά σαπούνια, πρέπει να διαβρέχεται καλά με νερό πριν από τη χρήση και να στεγνώνει καλά μετά τη χρήση. Αυτά τα βήματα θα βοηθήσουν το προϊόν να διαρκέσει περισσότερο.
INGREDIENTS

Olea Europaea (Olive) Fruit Oil, Water (Aqua) (and) Coffea Arabica Extract, Cocos Nucifera (Coconut) Oil, Sodium Hydroxide, Butyrospermum Parkii (Shea) Butter, Coffea Arabica (Coffee) Seed Powder, Ricinus Communis Seed (Castor) Oil, Theobroma Cacao (Cocoa) Seed Butter, Elettaria Cardamomum (Cardamom) Seed Oil, Linalool*, Limonene*, Geraniol*, Citral*
* Naturally occuring in essential oils / Προκύπτουν φυσικά στα αιθέρια έλαια
---