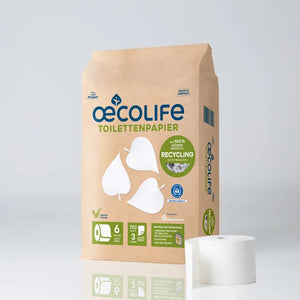 oecolife
Pack of 6 Toilet Paper - STRAW / Χαρτί υγείας - ΑΧΥΡΟ
Regular price
€4,70
€0,00
Unit price
per
Tax included.
Shipping
calculated at checkout.
6 rolls of 150 sheets, 3-ply
Manufactured in a way that preserves resources
completely plastic-free and vegan
Made in Germany
After all, people used straw to clean their behinds as early as the Middle Ages. However, our STRAW toilet paper is much softer and no, of course nothing pricks or scratches. The combination with 40% fresh pulp from sustainably managed forests alone ensures this. Good feeling plus a clear conscience, the ideal combination.

6 ρολά 150 φύλλων, 3 φύλλα
Κατασκευάζεται με τρόπο που διατηρεί τους πόρους
Εντελώς χωρίς πλαστικό και vegan
Κατασκευάζεται στη Γερμανία
Άλλωστε, οι άνθρωποι χρησιμοποιούσαν άχυρο για να καθαρίσουν τα πίσω τους μέρη ήδη από τον Μεσαίωνα. Ωστόσο, το χαρτί τουαλέτας μας STRAW είναι πολύ πιο μαλακό και χωρίς, φυσικά, τίποτα δεν τρυπάει ή γρατσουνίζει. Ο συνδυασμός με 40% φρέσκο ​​πολτό από δάση με αειφόρο διαχείριση το εξασφαλίζει μόνο αυτό. Καλό συναίσθημα συν ήσυχη συνείδηση, ο ιδανικός συνδυασμός.
---