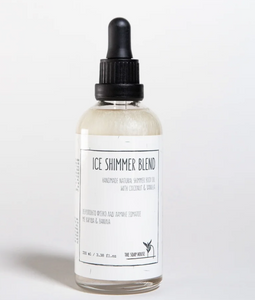 The Soap House
Dry Shimmer Oil "Ice Shimmer Blend" / Ξηρό Λάδι Λάμψης "Ice Shimmer Blend" - 100ml
Regular price
€16,00
€0,00
Unit price
per
Tax included.
Shipping
calculated at checkout.
Natural dry shine oil, with jojoba oil, calendula extract, coconut & vanilla. Ideal for shine, hydration, and intensive skin care.

It is a powerful blend of precious vegetable oils (Almond Oil, Apricot Oil, Macadamia Oil, Avocado Oil, Calendula Extract and Jojoba Oil) enhanced with Vitamin E and Vanilla & Coconut food flavoring. It contains natural mica pigment which comes from minerals and gives a light uniform shine.

Suitable for face, body & hair.
USEFUL TIPS
Shake well before each use. Apply a few drops daily to the body by gently massaging. For external use only. Use on healthy and clean skin and avoid contact with eyes. To be kept in a cool and shady place, away from children. It can be used morning and night and in a small amount it can also be applied to the cheekbones for a local glow.
--------
Φυσικό ξηρό λάδι λάμψης, με έλαιο χοχόμπα, εκχύλισμα καλέντουλας, καρύδα & βανίλια. Ιδανικό για λάμψη, ενυδάτωση, τόνωση και εντατική περιποίηση της επιδερμίδας.
Πρόκειται για ένα ισχυρό μείγμα πολύτιμων φυτικών ελαίων (Αμυγδαλέλαιο, Βερυκοκέλαιο, Έλαιο Μακαντάμια, Έλαιο Αβοκάντο, Εκχύλισμα Καλέντουλας και Έλαιο Χοχόμπα) ενισχυμένο με βιταμίνη Ε και άρωμα τροφίμου Βανίλια & Καρύδα. Περιέχει φυσική χρωστική Mica η οποία προέρχεται από ορυκτά και χαρίζει ελαφριά ομοιόμορφη λάμψη. 
Κατάλληλο για πρόσωπο, σώμα & μαλλιά.
USEFUL TIPS
Ανακινήστε καλά πριν από κάθε χρήση. Εφαρμόστε καθημερινά στο σώμα λίγες σταγόνες κάνοντας απαλό μασάζ. Μόνο για εξωτερική χρήση. Χρησιμοποιήστε σε υγιές και καθαρό δέρμα και αποφύγετε την επαφή με τα μάτια. Να φυλάσσεται σε δροσερό και σκιερό μέρος, μακριά από παιδιά.Μπορεί να χρησιμοποιηθεί πρωί & βράδυ και σε μικρή ποσότητα μπορεί να εφαρμοστεί και στα ζυγωματικά για τοπική λάμψη.
---