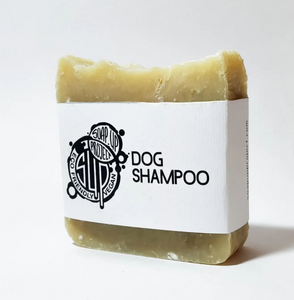 Soap up project
Dog Shampoo / Σαμπουάν για σκύλους
Regular price
€6,00
€0,00
Unit price
per
Tax included.
Shipping
calculated at checkout.
Sold in Bulk! We can ship it to you in reused paper, cotton pouch, upcycled pouch, to be selected separately on the site and added to your cart. If you do not select any, we will send it in a reused packaging!
The soap is suitable for all dogs with short or long hair. The rich foam allows deep cleaning of the hair and skin, while the essential oils help to protect them from mosquitoes and other insects always cooperatively with the use of the special collars and antiparasitics.
Vegan composition, low waste process and packaging, environmentally friendly.
Ingredients: olive oil, coconut oil, castor oil. Citronella and lemongrass essential oils.
Πωλείται χύμα! Μπορούμε να σας το στείλουμε σε επαναχρησιμοποιημένο χαρτί, βαμβακερή θήκη, ανακυκλωμένη θήκη να επιλέξετε ξεχωριστά στο site και να το προσθέσετε στο καλάθι σας. Εάν δεν επιλέξετε κάποιο, θα το στείλουμε σε επαναχρησιμοποιημένη συσκευασία!
Το σαπούνι είναι κατάλληλο για όλα τα σκυλάκια με κοντό ή μακρύ τρίχωμα. Ο πλούσιος αφρός επιτρέπει τον βαθύ καθαρισμό της τρίχας και του δέρματος, ενώ τα αιθέρια έλαια συμβάλουν στην προστασία τους από κουνούπια και άλλα έντομα πάντα συνεργατικά με την χρήση των ειδικών κολάρων και αντιπαρασιτικών.
Vegan σύνθεση, low waste διαδικασία και συσκευασία, eco friendly.
Συστατικά: ελαιόλαδο, λάδι καρύδας, καστορέλαιο. Αιθέρια έλαια σιτρονέλας και λεμονόχορτου.

---