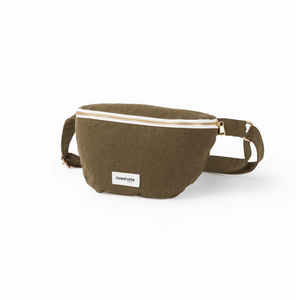 Rive Droite Paris
Custine THE WAIST BAG / Τζαντα Μπανανα - Recycled cotton Kaki
Regular price
€55,00
€0,00
Unit price
per
Tax included.
Shipping
calculated at checkout.
With its rounded shape and large main compartment, Custine, the Waist Bag, will replace your purse in a flash. It holds all your essentials, including keys, wallet, phone and makeup, and keeps your hands free. 
The adjustable strap lets you wear it as a messenger bag or around your waist. 
Composition:  Recycled cotton : 67% cotton & 33% elastane
Packaging: This product is carefully packed in a reusable drawstring cotton pouch
Lining: 100% upcycled polycotton
Dimensions :L25 x H17cm. Maximum waist 112cm. Minimum waist size 62cm.
Care instructions: Machine wash only on cold, delicate program. Iron on the reverse side.
Με το στρογγυλεμένο σχήμα και τη μεγάλη κύρια θήκη, η Custine, η τσάντα μέσης, θα αντικαταστήσει την τσάντα σας αστραπιαία. Χωράει όλα τα απαραίτητα, συμπεριλαμβανομένων των κλειδιών, του πορτοφολιού, του τηλεφώνου και του μακιγιάζ, και κρατά τα χέρια σας ελεύθερα.
Ο ρυθμιζόμενος ιμάντας σας επιτρέπει να το φοράτε ως τσάντα ταχυδρομείο ή γύρω από τη μέση σας.
Σύνθεση: Ανακυκλωμένο βαμβάκι: 67% βαμβάκι & 33% ελαστάνη
Συσκευασία: Αυτό το προϊόν συσκευάζεται προσεκτικά σε μια επαναχρησιμοποιήσιμη βαμβακερή θήκη με κορδόνια περίσφιξης
Φόδρα: 100% ανακυκλωμένο πολυβαμβάκι
Διαστάσεις: Υ25 x Υ17 εκ. Μέγιστη μέση 112 cm. Ελάχιστο μέγεθος μέσης 62 cm.
Οδηγίες φροντίδας: Πλένεται στο πλυντήριο μόνο σε κρύο, ευαίσθητο πρόγραμμα. Σίδερο στην πίσω πλευρά.
---