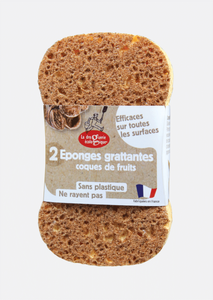 la droguerie ecologique
Set of 2 fruit shell sponges 100% compostable - Σετ 2 σφουγγάρια με κέλυφος φρούτων 100% βιοδιασπώμενο
Regular price
€3,30
€0,00
Unit price
per
Tax included.
Shipping
calculated at checkout.
Set of 2 fruit shell sponges, an alternative to plastic disposable sponges.
A real innovation! Avoids the use of abrasive plastic components and their waste. Efficient and durable, thanks to the finely crushed fruit shells, it effectively scoures all surfaces without scratching them. Resistant and flexible, the scraping part does not separate from the sponge part, which guarantees long durability. Ergonomic shape.
Composition: vegetable cellulose covered with an abrasive powder designed exclusively from walnut shells, almonds, pine nuts.
Ecological interests: Alternative to sponges made of plastic. Fruit shells are recycled from food production and do not undergo any processing. No plastic residue is discharged into the water.
Σετ 2 σφουγγάρια με κέλυφος φρούτων, εναλλακτικά στα πλαστικα σφουγγάρια μιας χρήσης.
Μια πραγματική καινοτομία! Αποφεύγει τη χρήση λειαντικών πλαστικών εξαρτημάτων και τα απόβλητά τους. Αποτελεσματικό και ανθεκτικό, χάρη στα λεπτώς θρυμματισμένα κελύφη φρούτων, καθαρίζει αποτελεσματικά όλες τις επιφάνειες χωρίς να τις χαράζει. Ανθεκτικό και εύκαμπτο, το τμήμα απόξεσης δεν διαχωρίζεται από το μέρος του σφουγγαριού, γεγονός που εγγυάται μεγάλη αντοχή. Εργονομικό σχήμα.
Σύνθεση: φυτική κυτταρίνη καλυμμένη με λειαντική σκόνη σχεδιασμένη αποκλειστικά από κέλυφος καρυδιού, αμύγδαλο, κουκουνάρι.
Οικολογικά ενδιαφέροντα: Εναλλακτικά για τα σφουγγάρια από πλαστικό. Τα κελύφη των φρούτων ανακυκλώνονται από την παραγωγή τροφίμων και δεν υφίστανται καμία επεξεργασία. Κανένα πλαστικό υπόλειμμα δεν απορρίπτεται στο νερό.
---