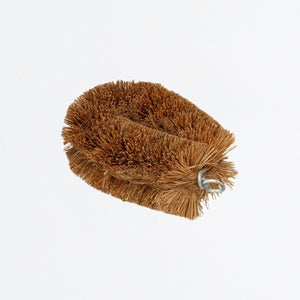 la droguerie ecologique
Multi-purpose coconut brush / Πολλαπλών χρήσεων Βούρτσα - σφουγγάρι καρύδας
Regular price
€3,00
€0,00
Unit price
per
Tax included.
Shipping
calculated at checkout.
Multi-purpose coconut brush perfect as a dishwasher, for washing vegetables, dusting shoes or scrubbing a sink. Absorbs grease and cleans effectively without damaging surfaces. It is made of 100% biodegradable coconut fiber and is an ecological and plastic-free household accessory.
Βούρτσα πολλαπλών χρήσεων απο καρύδα. τέλεια ως ξύστρα για πιάτα, για πλύσιμο λαχανικών, ξεσκόνισμα παπουτσιών ή τρίψιμο νεροχύτη.

Απορροφά τα λίπη και καθαρίζει αποτελεσματικά χωρίς να καταστρέφει τις επιφάνειες. Είναι κατασκευασμένο από 100% βιοδιασπώμενες ίνες καρύδας και είναι ένα οικολογικό και χωρίς πλαστικό οικιακό αξεσουάρ.
---