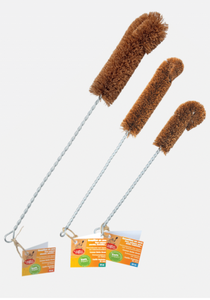 la droguerie ecologique
Coconut bottle brush - Βούρτσα καρύδας για μπουκάλια
Regular price
€1,80
€0,00
Unit price
per
Tax included.
Shipping
calculated at checkout.
Very durable, these three coconut brushes are ideal for cleaning water bottles, bottles, baby bottles and also various containers, without scratching them. The rounded coconut tip allows you to clean the base of the pots.

Manufactured in Sri Lanka in a certified social responsibility company.
Available in 3 sizes: 20cm, 25cm, 35cm.
Practical: the iron handle allows it to be hung upside down for ultra-fast drying. Ecological interests Made from biodegradable vegetable materials, these brushes are made with flexible and very resistant coconut fibers and an iron handle. Does not trigger an allergy.
Πολύ ανθεκτικά, αυτά τα τρία πινέλα καρύδας είναι ιδανικά για τον καθαρισμό μπουκαλιών νερού, μπιμπερό, μπιμπερό αλλά και διάφορων δοχείων, χωρίς να τα γρατσουνίζουν. Η στρογγυλεμένη άκρη καρύδας σας επιτρέπει να καθαρίσετε τη βάση των γλάστρων.
Κατασκευάζεται στη Σρι Λάνκα σε μια πιστοποιημένη εταιρεία κοινωνικής ευθύνης.
Διατίθεται σε 3 μεγέθη: 20cm, 25cm, 35cm.
Πρακτικό: η σιδερένια λαβή του επιτρέπει να κρεμιέται ανάποδα για εξαιρετικά γρήγορο στέγνωμα. Οικολογικά ενδιαφέροντα Κατασκευασμένες από βιοδιασπώμενα φυτικά υλικά, αυτές οι βούρτσες είναι κατασκευασμένες με εύκαμπτες και πολύ ανθεκτικές ίνες καρύδας και σιδερένια λαβή. Δεν προκαλεί αλλεργία.
---