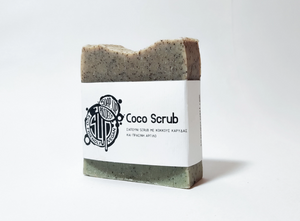 Soap up project
Coco Scrub / Σαπούνι scrub σε μπάρα - with coconut kernels
Regular price
€7,00
€0,00
Unit price
per
Tax included.
Shipping
calculated at checkout.
Sold in Bulk! We can ship it to you in reused paper, cotton pouch, upcycled pouch, to be selected separately on the site and added to your cart. If you do not select any, we will send it in a reused packaging!
Bar soap for light exfoliation on the face and body, ideal for oily skin. Green clay has the ability to absorb excess oil that can clog pores and lead to acne and blemishes, and acts as a powerful, deep cleanser that helps balance the skin's pH levels. It also stimulates cell regeneration, leaving you with a radiant complexion. The coconut grains remove dead cells, while the black coconut aroma leaves a feeling of freshness. For the proper preservation of the soap and the maximum possible duration, it is recommended to place it in a drainage dish so that there is no stagnant water.
Vegan composition, low waste process and packaging, eco friendly.
Ingredients: Olive Oil, Coconut Oil, Green Clay, Coconut kernels, Black Coconut Flavor
Πωλείται χύμα! Μπορούμε να σας το στείλουμε σε επαναχρησιμοποιημένο χαρτί, βαμβακερή θήκη, ανακυκλωμένη θήκη να επιλέξετε ξεχωριστά στο site και να το προσθέσετε στο καλάθι σας. Εάν δεν επιλέξετε κάποιο, θα το στείλουμε σε επαναχρησιμοποιημένη συσκευασία!
Σαπούνι σε μπάρα για ελαφριά απολέπιση σε πρόσωπο και σώμα ιδανικό για λιπαρές επιδερμίδες. Η πράσινη άργιλος έχει την ιδιότητα να απορροφά τη περιττή λιπαρότητα που μπορεί να φράξει τους πόρους και να οδηγήσει σε ακμή και ατέλειες και δρα ως ένα ισχυρό, βαθύ καθαριστικό που βοηθά στην εξισορρόπηση των επιπέδων pH του δέρματος. Επιπλέον διεγείρει την αναγέννηση των κυττάρων, αφήνοντάς σας μια λαμπερή επιδερμίδα. Οι κόκκοι καρύδας απομακρύνουν τα νεκρά κύτταρα, ενώ το άρωμα μαύρης καρύδας αφήνει μια αίσθηση φρεσκάδας.
Για την σωστή διατήρηση του σαπουνιού και την μέγιστη δυνατή διάρκεια, προτείνεται η τοποθέτησή του σε πιατάκι αποστράγγισης ώστε να μην υπάρχουν λιμνάζοντα νερά. 
Vegan σύνθεση, low waste διαδικασία και συσκευασία, eco friendly.
Συστατικά: ελαιόλαδο, λάδι καρύδας, πράσινη άργιλος, κόκκοι καρύδας,  άρωμα σαπωνοποιίας μαύρη καρύδα
---