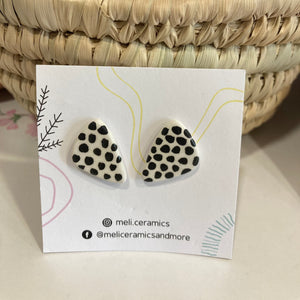 Meli ceramics
Ceramic stud earrings - Black dots / Κεραμικά καρφωτά σκουλαρίκια - Μαύρες κουκκίδες
Regular price
€16,00
€0,00
Unit price
per
Tax included.
Shipping
calculated at checkout.
Beautiful colourful ceramic creations by Meli ceramics - Handmade in Athens
Length: 1.8 Centimeters; Width: 1.8 Centimeters

Materials: Ceramic, Stainless steel

Location: Earlobe

Closure: Push back

This piece is made with white earthenware clay and it

 is glazed with non-toxic transparent glaze
A word from the artist:
"Hello :) I'm Melitini behind Meli ceramics with the colorful ceramics. My journey in ceramics started about 4 years ago when I went to ceramics classes in the Municipality of Nikaia.There I tried for the first time to make something on the pottery wheel and I was excited. After about 1.5 years I got my own wheel and I spent most of my everyday hours on it. Since then I have been creating useful and decorative objects on the wheel, but not only that. I want those who use my creations to feel the same joy that I feel when I make them.
All products have passed through my hands more than 60 times since all production stages are done by me. I got to know ceramics more with the pottery wheel so most ceramics have been shaped on the wheel. The hallmark of my work I would say is the bright colors and flowers that I love so much."
Όμορφες πολύχρωμες κεραμικές δημιουργίες από την Meli ceramics - Handmade in Athens
Μήκος: 1,8 εκατοστά; Πλάτος: 1,8 εκατοστά
Υλικά: Κεραμικό, Ανοξείδωτο ατσάλι
Τοποθεσία: Earlobe
Κλείσιμο: Σπρώξτε προς τα πίσω
Αυτό το κομμάτι είναι φτιαγμένο με λευκό πήλινο πηλό και είναι γυαλισμένο με μη τοξικό διαφανές γλάσο

Μια λέξη από τον καλλιτέχνη:
"Γεια σου :) Είμαι η Μελιτινή πίσω από το Meli ceramics με τα πολύχρωμα κεραμικά. Το ταξίδι μου στη κεραμική ξεκίνησε πριν από 4 χρόνια περίπου όταν πήγα για μαθήματα κεραμικής στο Δήμο Νίκαιας. Εκεί δοκίμασα πρώτη φορά να φτιάξω κάτι στον τροχό κεραμικής και ενθουσιάστηκα. Μετά απο περίπου 1,5 χρόνο πήρα τον δικό μου τροχό και σε αυτόν περνούσα τις περιοσσότερες ώρες της καθημερινότητας μου. Απο τότε δημιουργώ χρηστικά και διακοσμητικά αντικείμενα στον τροχό αλλά και όχι μόνο. Θέλω αυτοί που χρησιμοποιούν τις δημιουργίες μου να νιώθουν την ίδια χαρά με αυτή που νιώθω και εγώ όταν τα φτιάχνω.
Όλα τα προιόντα έχουν περάσει πάνω από 60 φορές απο τα χέρια μου αφού όλα τα στάδια παραγωγής γίνονται απο μένα. Την κεραμική την γνώρισα πιο πολύ με τον τροχό κεραμικής έτσι και τα περισσοτερα κεραμικά έχουν διαμορφωθεί στον τροχό. Το χαρακτηριστικό της δουλειάς μου θα έλεγα ότι είναι τα έντονα χρώματα και τα λουλούδια που αγαπώ τόσο πολύ."
---